4th of July Celebrations!
From all of us at the Eccles Group, we wish you and yours a happy Independence Day!
The Salt Lake area has a lot of great ways to celebrate July 4th – here are some of the festivities being offered:
Park City Celebration & Fireworks     Join us for our annual 4th of July Celebration, ending with Park City's annual fireworks presentation!
11:00AM – 4th of July Parade: Historic Main Street
3:00PM – Complimentary Village Activities & Mountain BBQ: Park City Mountain Village
5:00PM – Live Music on the Green Stage
7:30pm – Live Music by The Soulistics: The Green, Park City Mountain Village
9:30pm – 4th of July Fireworks
Murray City Parade & Activities     The traditional Fourth of July community celebration in the town of Murray includes the Fun Days Parade. Activities begin at 8:30 a.m. on Vine Street. Most events happen in Murray Park.Parade route: 6100 South on State Street going north to Vine Street. Turn right at Vine Street down to 330 East Vine to Murray Park Entrance, turn right into Murray Park and through Murray Park and conclude at the west end of the park.
Stadium of Fire (with OneRepublic)     We are thrilled that OneRepublic, one of the world's most popular musical groups for more than a decade, will be the headliner at Stadium of Fire on July 4th, 2018, at LaVell Edwards Stadium in Provo, Utah! In addition to OneRepublic, guests will enjoy the beloved patriotic tributes and exciting thrill acts that Stadium of Fire is known for—as well as the largest stadium fireworks show in the nation!
4th of July Fireworks @ Jordan Park     Salt Lake City's annual 4th of July celebration will celebrate Independence Day in style with FIREWORKS! As always it will be a patriotic neighborhood party on Salt Lake City's west-side.  The firework display will be located near the north part of Jordan Park.
Liberty Day @ This is the Place Heritage Park     Enjoy a day of good old-fashioned FUN while you celebrate the birth of our great Nation! Join us as we raise the red, white and blue, dance on Main Street and fire off the Candy Cannon! There's pony and train rides all day long! Pan for gold and dig in for shiny gemstones in Prospectors Pit and more! The Native American dancers will entertain you in the new Teepee, the largest teepee in America. There are acres and acres of FUN at This Is The Place.The 4th of July FUN Place for Everyone!
Thanksgiving Point 4th of July Celebration     Lehi City and Thanksgiving Point invite you to celebrate American Independence with us at Electric Park.  Gates, concessions, and vendors at Electric Park will open at 4 pm. Bring a blanket and enjoy an evening outdoors with food and fun.
Timeline:
4:00 pm: Gates Open
7:00 pm – 9:45pm: Music, Games, Prizes
10:00 pm: Fireworks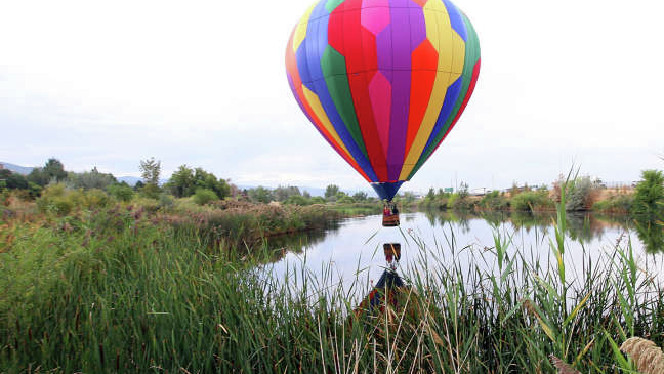 Balloon Fest @ Bulldog Field in Provo (July 2-4)
Gather with more than 25,000 spectators to experience approximately 25 of these magical giants close-up as part of the ever popular Balloon Fest. Balloons fly each morning on July 2, 3 and 4 from 6:00am to 8am. Families and children may walk around the balloons as they inflate. Make sure and arrive at 6:00am to see the balloons inflate! Pilots participate in the Hare and the Hound competition where "hound" balloons drop bean bags onto a target laid out by the "hare." Pilots obtain additional points through jousting as they attempt to pop large balloons with sharp sticks 200 to 300 feet above the ground. Top pilots from around the nation come to compete in this unique and difficult event.