SLC Festivals & Events – July 2018
---
4th of July festivities
Park City Celebration & Fireworks
Murray City Parade & Activities
Liberty Day @ This is the Place Heritage Park
Thanksgiving Point 4th of July Celebration
---
Festivals & Events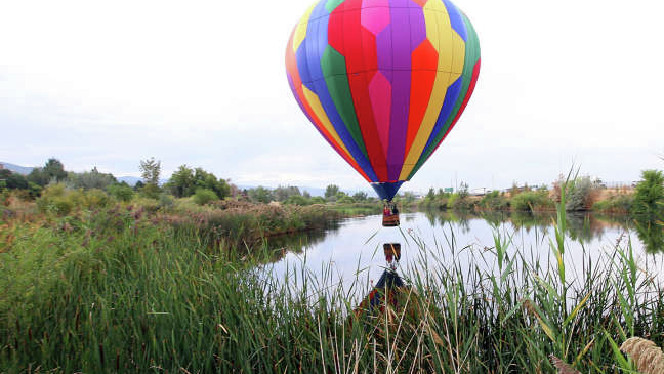 Balloon Fest @ Bulldog Field in Provo (July 2-4)
Gather with more than 25,000 spectators to experience approximately 25 of these magical giants close-up as part of the ever popular Balloon Fest. Balloons fly each morning on July 2, 3 and 4 from 6:00am to 8am. Families and children may walk around the balloons as they inflate. Make sure and arrive at 6:00am to see the balloons inflate! Pilots participate in the Hare and the Hound competition where "hound" balloons drop bean bags onto a target laid out by the "hare." Pilots obtain additional points through jousting as they attempt to pop large balloons with sharp sticks 200 to 300 feet above the ground. Top pilots from around the nation come to compete in this unique and difficult event.
Mondays in the Park (part of the Living Traditions Festival) @ Liberty Park
July 2, 9, 16, & 30 – starts at 7:00pm
Join us for a FREE, family-friendly concert series every Monday in July and August (except July 23) outside the Chase Museum in Liberty Park. Concerts begin at 7:00 pm and run until 9:00 pm. Come early and check out the brand-new concession stands in Liberty Park and discounted rides on Mondays in the park. Bring a blanket, pack some snacks and come out for an event the whole family will enjoy. Support local performing artists in your community.For more information and lineup, please visit: https://www.facebook.com/livingtraditionsfestival/
2018 Monday Night Movie Series @ Gallivan Center – starts at 8:30pm
July 2 – Airplane!     July 9 – Spaceballs     July 16 – Best in Show     July 23 – The Naked Gun
Weekday Workouts @ Gallivan Center – starts at 5:30pm
Every Monday, Tuesday, Wednesday and Thursday        Mon/Wed: Yoga          Tue/Thurs: Bootcamp
Free workouts lead by the University of Utah PEAK Health & Fitness on the Gallivan Plaza!
3rd Annual Venezuelan Festival @ Library Square (July 7)
Venezuela comes alive with brilliant colors, incredible music and amazing food. There is no better way to experience Venezuela than to do so during the FESTIVAL. Experience the true culture of Venezuela, and have a lot of fun!
Eat Drink SLC @ Tracy Aviary (July 12)
Festival-goers, aged 21 and over, sample seasonal fare from many of Salt Lake's leading restaurants and purveyors; sip from a selection of 80 wines from an international assortment of family-owned wineries; taste craft cocktails from small-batch distilleries, including several which are locally owned and operated; and enjoy local beers from award-winning Utah craft brewers. Each of the three distinct festival pods feature its own culinary mix and musical genre, allowing patrons to chart their own course through the evening.
July 21 @ Brighton           July 22 @ Solitude           July 28 @ Alta           July 29 @ Snowbird 
Enjoy an easy 45 minute stroll or [up to] a 3 hour challenging hike with our trained Wasatch Wildflower Guides…or grab a map of the route and head out on your own. Naturalists will be stationed along hiking routes to share information about particular points of interest. Marvel at the beautiful flora and fauna while learning about our amazing Uinta-Wasatch-Cache National Forest!  Our naturalist guides have been training for months to provide four unique and locally celebrated days!
Most hikes take place at a gentle pace to accommodate wildflower viewing and discussion, but some are longer in distance and time.  Difficulty ratings of "kids, beginner, intermediate, or advanced" are provided based on trail difficulty or length, not level of wildflower knowledge.
Science is Fun @ Clark Planetarium (July 21)
Do you love experiments? Do you want to learn about science while you have fun? The first place to start is with us at the Clark Planetarium! On the 3rd Saturday of every month, we will conduct science demonstrations among the exhibits. Science is AWESOME, and it is cool for us to share it with you, your family and your friends.
---
Pioneer Day Festivities – July 24
Draper Days Activities & Fireworks @ Draper City Park (July 13-14)
Colorful floats, bands, horses, clowns and other entries thrill thousands of spectators each year. Many families camp out on the streets the night before to ensure a great seat to catch it all the following morning. The Parade starts at State Street and South Temple. We encourage you to join us for a wonderful morning of excitement and colorful entries in our much-loved Parade. Remember that businesses are in operation and residents live along the Parade route. Please respect their property! Let them get some sleep if you're camping overnight nearby and be sure to pick up trash and remove all your camping gear (including that sofa or mattress that is headed to the dump!) on Monday morning before you leave the area. Route starts at South Temple and State Street. Then runs East to 200 East.Then turns South to 900 South. Then turns East to 600 East (Liberty Park).
Salt Lake City Pioneer Day Celebration & Fireworks @ Liberty Park
Join us for Salt Lake City's annual Firework Show at Herman Franks Park near Liberty Park!  Bring a blanket and chairs and enjoy the firework display that will be located in the center of Herman Franks Park.
Pioneer Day @ This is the Place Heritage Park 
Utah's celebration of Pioneer Day won't be complete without a visit to This Is The Place Heritage Park! In addition of our everyday line-up of FUN, we add even more on this special day we celebrate the founding of UTAH! Your entire family will have a blast! Really? Our Candy Cannon heralds the day with a BANG! It's raining old-fashioned taffy down Main Street when the Candy Cannon fires away. Native American dancing is a crowd favorite all summer long, but on Pioneer Day we have an extra spectacular show planned in the Bowery. Skymasters Wildlife will entertain you again this year with their fantastic bird show. These beautiful birds are amazing and will be up close so don't miss this photo opportunity. There will be games galore! Can you remember the last time you won a stick horse race or beat your cousins in a game of tug-of-war? Come prepared to play with us and take home some new family memories! The celebration wouldn't be complete without enjoying the everyday activities: panning for gold, riding ponies and trains, enjoying art and craft projects, digging in Prospectors Pit, and much more. Join the Pioneer Parade down Main Street, and when you smell those Brigham's Donuts duck inside the Social Hall and have yourself a little bit of sugary heaven! But save a little room, as you'll want to see if you can triumph at the Watermelon Eating Contest! Lunch will be served at the Huntsman Grill and it's bound to be hot hot hot so cool off in Irrigation Station or with a giant Flavor Burst Ice cream cone from the Ice Cream Shop. Everyone is welcome!